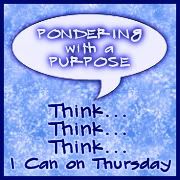 Welcome to Pondering with a Purpose –with Brenda Youngerman
Today's prompt is: Swing
My first thought is "swing dance" because we are ballroom dancers. There are several types of swing dancing – East Coast, West Coast, and Jive, Single step and Triple step. Our preference is Single step however we do a mean triple.
Our grandchildren love to swing. The newest baby T loves his swing. It goes sideways as well as back and forth and is a great little baby sitter when Mommy needs a set of hands.
I am also reminded of the song "Swinging on a star". It was sung by Bing Crosby in "Going my way" as well as "the Bells of Saint Mary".
Do you swing into action when something needs to be done? Do you have a swing in your step when you're happy?
I would love if you swing by to comment on my blog.
.