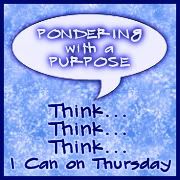 I am going to start this ponder with a stretch of the topic. I am going to reach out and talk about my cruise. I will apologize in advance that I have not been visiting any blogs. I will return when I get better internet access.
Even though the cruise is 14 days long we stretched our vacation to add a week on each side. We are trying to avoid stretching our clothes by exercising. We participate in Aqua Aerobics, Sit and be fit as well as dancing every night. The challenge we face is the buffet table that is stretched from one end of the ship to the other.
We stretched our budget to include a tour of St Lucia as well as purchasing some t-shirts. I have my eye on some Bella Perlini jewellry. It goes on sale on Friday. I also stretched out my birthday celebrations.
Have a good day and whatever you do stretch your mind!