Once again it's time for Five Question Friday hosted by: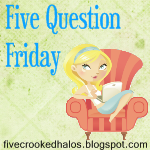 1. What giveaway would you like to do on your blog?
I don't give anything away on my blogs.
2. If you had to choose between natural artistic ability and natural athletic ability, which would it be?

I would rather have natural artistic ability because I would love to have been able to visualize colour schemes and draw.
3. Do you ditch the coat the minute it becomes "spring" or are you a holdout for more cool temps?
This year I have 5 different coats on the go. They range from my heavy winter coat which I wear walking, my driving winter coat, my fleece-lined raincoat, my unlined raincoat and my spring jacket. There have even been days where a little sweater will do. I believe there will still be a snowfall in our future.
4. What would you do if you won the mega millions lotto of 1/2 billion dollars?
I would share with my children; take more of my bucket list trips which include Australia, New Zealand and Japan; buy another car and fix the basement of our house
5. You are at a hotel by yourself...what do you do?
I would take a bubble bath that would last for hours; order room service and watch the televisions I want to watch
You too can be part of 5QF by linking up at fivecrookedhalos.blogspot.com