It's that time again when I answer five questions about myself... posed by: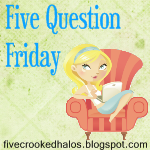 1. If you were free to just hop in the car and drive, where would you go? Or, if you could hop a plane and go anywhere, where?
I love to drive and dislike flying. Since we are retired we can take the time to travel all over the place. Our next big drive besides visiting H is to Boston.
2. What's your most recently read favourite book?
I am terrible with names of books as I just pick them up and read them however one I shared was about "Friendship Bread"
3. What's your favourite Spring Break memory?
Oh my goodness! it has been so long since I had a spring break however just enjoying this year's weather has been amazing.
4. What do you put in your child's Easter basket? Or, for those w/o kids, what was put in your childhood basket?
When I was a child Easter was a day to go to Church. My mother usually made my sister and I a new Spring outfit. We always had a new Easter bonnet.
I 5. Do you get a summer haircut?
When I started to plan my retirement one of the plans was for my hair. I now have a wash and go which needs to be cut every 6 weeks. This has upset my hairdresser who gave me the cut because for 37 years I used to go every week for a blow dry and curl. So my cut is winter, summer, spring and fall.
| Labels:Five Question Friday |