It's that time of the week where I sit down and answer 5 more questions... why? Because it's....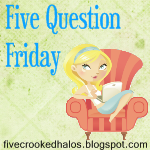 1. Where is your favourite vacation spot and why?

I have no special spot however any cruise ship will do. I don't want to get off this one on Sunday.
2. What is your biggest guilty pleasure?
I love chocolate in any form and ice cream which I am not supposed to eat any more.
3. What is your favourite fashion trend right now? Or, in the past?
So many fashion trends have come and gone for example when I got married I wore platform shoes as did my mother when she got married. My daughter wore platform shoes when she got married last year so if you keep things long enough they will be a trend.
4. What are your spring break plans?
Retirement means we are always on a break however this spring we will plan for our next cruise in July.
5. What baby names do you hate?
I don't hate any baby names however with the new spellings of names and the emphasis on different parts of the names I have a hard time remembering their names and with 27 born last year my mind is working over time.
Posted byHeatherat3/01/2012 | Labels:Five Question Friday |