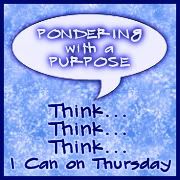 Thanks to Brenda for hosting Pondering with a purpose:
This Week's prompt: Memories
Do you have any memories that would be fascinating for someone else to read about in one hundred years? or even ten?
I never thought that any one would want to hear about my boring life. I mean I got up and went to work for 23 years. Before that I stayed home with my kids while they grew up. I am not much of a cook and housework was not a strong suit either.
D H and I did start to travel which made our lives a little more exciting. We have 5 wonderful grandchildren and another on the way. All of our children completed post-secondary school and have good jobs now. Our house is paid for and in fairly good repair.
We have our health and no major issues. Soooooo would I write a memoir? I have to tell you that I am not a stranger to Memoirs as my mother has already written one. She is published and has shared the book with her family. Everyone loves to read her story. I would have to become a better writer if I were to write mine.
The whole concept of sharing our past with the future generations is wonderful. Hopefully they can learn from our mistakes.
My father has Alzheimer's, so memories are very important. Unfortunately it is the Now that he has trouble with. I hear people talk about the pictures they take on their trips and wonder what they will do with them. I say "When you are too old to travel you travel through your pictures and keep your memories alive". We have an office full of albums and the grandchildren love to see their parents as they grew up.
I may not write all of our memories however I have lots to share and hope to have many more along the way. If I can't write it down I can at least share it with our family.