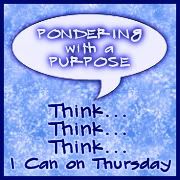 Welcome to Pondering with a Purpose – with Brenda Youngerman
Today's prompt is: Break
If you break it, you've bought it!
It's a breakaway! He shoots and he scores!
Break your routine! It's like taking a vacation!
Ah! The coffee break! Everyone needs one even if you drink tea!
Break the habit! Especially smoking – everyone should do it!
Of course there is the break water which gives us lots of waves on a windy day.
Brenda is taking a break from Pondering so there will no more for a while.