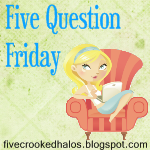 !Welcome to Five Question Friday!! You've come to the right place if you want a fun, easy post or if you've suddenly discovered your muses are caught in this whirlwind called "life".
Rules for 5QF: Copy and paste the following questions to your blog post, answer them, then watch for the linky post to appear Friday morning and LINK UP! (Feel free to play along on Twitter, also!)
Oh, and remember (pay close attention...this is the important one)...HAVE FUN!
Questions for Friday, April 13th: (Special thanks to Tyler (@TylerH2102) from Just Another Day in OUR Paradise, Amy (@amy_mcmommy) from Mac or Cheesy, Pam (@trooppetrie) from Troop Petrie, Anna (@annacdaisy) from Single Mommy Chronicles, and Erin (@emenchho1) from The Life and Times of E1 for their question suggestions! I would love to link you in a future 5QF, so come on over to mycommunity or watch for my Thursday afternoon shout out for questions on Twitter and offer up your best question suggestions! Remember to @5crookedhalos me and use hashtag #5QF if you go the Twitter route!)
1. Groceries are high right now what is easiest way you have found to cut back?
We are making most of our meals from scratch. D H is the cook in the family and he prefers non-packaged foods. We also take advantage of senior's day.
2. What are the top 3 things on your "bucket list"?
Cruise to Australia and New Zealand, cruise Alaska and cruise to Japan. We really like to cruise partly because we hate flying.
3. Would you rather give up AC or heat?
We have already given up AC when we bought the new furnace. We have ceiling fans in every room.
4. What's your favourite cocktail??
I don't drink any more however it used be "Tom Collins".
5. What was your first job & how old were you?
Except for babysitting my first real job was in a library as a page. I worked for the libraries for 5 years and was the first page to have taxes taken off my paycheque. It was great. I got a chance to read the new books first.