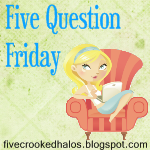 Questions for Friday, November 2nd: (Special thanks to Pam (@trooppetrie) from Troop Petrie, Lindsey (@bloggerlinds) from A Dollop of my Life, Maranda (@MarandaLamping) from Maranda Lamping, Kate (@KatieB38) from Kate's Life, and Erin (@emenchho1) from The Life and Times of E1 for these 5QF question suggestions! I would love to link you in a future 5QF, so come on over to my community or watch for my Thursday afternoon shout out for questions on Twitter and offer up your best question suggestions! Remember to @5crookedhalos me and use hashtag #5QF if you go the Twitter route!)
1. What terrifies you the most?
I have a terrible fear of falling down stairs. It is so bad that I don't climb circular stairs.
2. Favourite fall/winter drink?
My favourite drink is hot tea all year round however when I am in the South I drink sweet tea. I am extremely fussy on how my hot tea is made. I love the occasional hot chocolate especially if I am having a hard time going to sleep.

3. Do you and your spouse have the same political views?
Pretty much

4. What was the last book you read? Was it any good?
I am in the middle of reading a book with 4 stories in it. I have finished 3 and have started the fourth. All of the stories are set in beaches. I am enjoying it very much.

5. Do you look forward to the snow each winter? Why or why not?
I am not a big fan of snow. Aesthetically I love the "Currier and Ives" look when snow falls however I don't like to drive in it. I also am not a big fan of shovelling it.
Welcome to the weekly Follow Friday Four Fill-in Fun Blog Hop!

This week's statements:

1. Growing up I was the oldest of 4 children. I paved the way for all of the others.

2. Wouldn't it be wonderful if everyone could retire and travel the world.

3. If I hadn't been married for 25 years , then I never would have gone cruising.

4. When I am on a date with hubby, I like to go dancing.