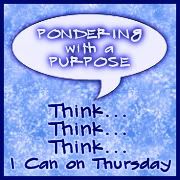 Thank you Brenda for hosting Pondering with a purpose. Today's question is:
When you are making a huge dinner for family and friends do you want it to be perfect even if it is the same food they are used to?
I am not much of a cook however I learned a long time ago that nothing is ever perfect especially when it come to food. This story is not related to Thanksgiving however the story of my first apple came to mind when I saw this prompt. First of all I made this pie for my father who is a very harsh critic.
I was newly married and my mother had a broken arm. My father really wanted an apple pie from the first apples of the season so I said I would make him one. Of course I followed my mother's recipe because is a fabulous baker. I made the pastry from the "Crisco" box. I rolled out the pastry which was a little thicker than my Mom's. Hubby helped with the peeling of the apples. I put the top on the pie and realized that I had not added a pat of butter. So I took the top off and added the butter. The top went back on in pieces.
By now I am in tears because the pie doesn't look anything like my Mom's. We baked it anyway. My Dad and hubby both ate it and said they loved it. Bless their hearts!
Now when I bake an apple pie if it doesn't have a crumbling effect I feel it won't turn out as well.
Lesson learned. It doesn't matter what it looks like it is how it tastes especially if it is made with LOVE!