As usual I am joining Brenda Youngerman for Pondering with a Purpose: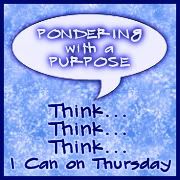 Today's prompt is: Flexible
I find my self being much more flexible these days. I think being retired allows me to make changes on a daily basis. I no longer follow a schedule per say so I can get up when I am not tired and go to bed when I am. Other than the cruises we have planned for the rest of the year we are available.
I need to be more flexible with my body. When I put my knee out in January I thought I would never dance again. Thanks to the aquafit and sit and be fit on the cruise I have managed to get my knee working again. I have signed up for classes that will start at the end of the month and I hope I can maintain my flexibility.