Pondering with a Purpose – Green with Brenda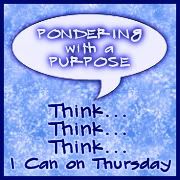 Today's prompt is: Green
Brenda is continuing with her double meaning words. Green is not only a colour and very much associated with March but it is also a verb associated with recycling.
I love the colour green. I like it light, dark, and emerald green. I have lots of sweaters and tops in green. My dining room has just been painted green as well.
We are thinking green as we plan our trip to Ireland this summer. Not only do we revisit Dublin we also get to see Belfast. D H is busy lining up tours for the six of us. Thinking of the summer is making it easy to forget that there is very little green outside at the moment.
Recycling and "going green" has been a big part of our lives. I guess the farmer stock has made us that way. We have had a compost long before it was popular. Every spring D H uses the rich soil on the garden. It also has the advantage of giving us surprises every year. Last year tomatoes grew on their own. One year it was beans and another year it was melon. We strongly believe in recycling our papers as well as glass and cans. Even when we travel we take reusable mugs instead of buying bottled water and we use food containers to carry our lunches. Since D H is the cook we also avoid a lot of pre-packages foods and buy in bulk when we can.
Let us hope that we have a GREEN Spring soon!