Welcome to Pondering with a Purpose hosted by Brenda Youngerman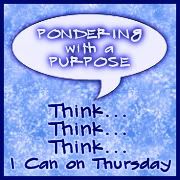 I am continuing with words that have double meanings. In the coming weeks I will continue with this list... if you have any suggestions... please let me know!
This Week's prompt: Race
So I suppose the first thing I need to ask is what do you think of when you see or say race?
My first thought is a race such as The Olympics or even a car race. Do you remember chasing your brothers and sisters around? Do you ever race you car away from a light to beat the guy beside you?
Of course the other meaning of Race is ethnicity. I live in a multicultural country where being white, anglo-saxon and protestant is a minority. Personally I love all the different cultures. I can walk to China town, Little Italy, The Indian Bazaar, Greek town and even African. Our neighbours bring such a rich variety to our lives.
I have a funny story that really happened. My aunt and uncle came into the city to attend my daughter's wedding shower. D H took my uncle for a walk for a little Indian food. Of course D H was referring to BBQ corn which is a big part of East Indian culture however my uncle thought it was going to be Native American Indian food and was looking for a pow wow.
Today I am in a race to beat the weatherman. As everyone who follows this blogs knows we are trying to get away to the warm south. We are racing out ahead of a massive snow storm. Hopefully we will enjoy the sun and sand soon.