Welcome to Pondering with a Purpose -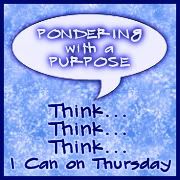 today's prompt is: Live
One of my favourite mottos is "Live life to the fullest". There is so much to see and do. There are people to meet and places to see. I think that is why we love cruising so much. We can do both at the same time.
Being alive and waking up each morning to see what new ventures are in store for us. I love to watch the changes as the grandchildren grow up. I have the time now that I didn't have when my own children were growing up. It seems living got in the way.
The invention of the computer has certainly changed our lives. Now I can see my parents every day even though they live in a city 4 and 1/2 hours away. I see my grandchildren in South Carolina as well as those that live 1/2 hour away.
Thankfully I have the time now that I am retired. I can take the time to smell the roses. It has all been worth the journey to get here.