Welcome to Pondering with a Purpose – with Brenda Youngerman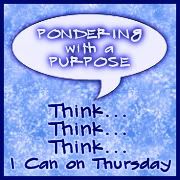 Today's prompt is: Switch
The first thought to come to mind this morning was the switch which is an old fashioned device used for punishment. To write this blog I had to switch on the light switch. Have you ever wanted to switch places with someone else? I always say we should walk in someone else's shoes before we criticize them.
Since I have retired I have switched my priorities. I have also switched my activities. Yesterday we switched the family around as we added our new grandson, Thomas. The granddaughters are staying with us while Mom and baby get better acquainted. We even switched cars so that I could drive the girls in their car seats. They didn't have to switch. It is unusual enough that they have switched beds for a couple of days.
The next few days will be interesting as we switch our schedule to fit the new arrival. Welcome Thomas!