Welcome to Pondering with a Purpose – by Brenda Youngerman
Today's prompt is: Knot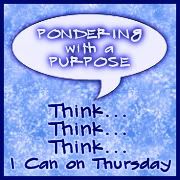 I want to write about knots without getting a knot in my stomach. My brother and hubby were very active in Boy Scouts so there was a lot of knot tying around the house. I personally can really only do 2 – the reef knot and the slip knot. My Dad taught us the slip knot so that we could tie up the boats in the summer. I never really used the reef knot which is tied by going right over left and under and then left over right and under. My memory is still good.
One of the decorating styles in the 70's was called knotty pine. Here are some pictures supplied by Google.
Of course I also use knots in my knitting and crocheting. I took a macramé class once but got kicked out because I tied my teacher in knots. She said "I was the most frustrating student she had ever had". Sorry Mima.
Decorative macramé owls
Before this pondering ties me in knots I will wish everyone a happy day!