Also thanks to Hilary for hosting Four Fill Ins. This week's statements: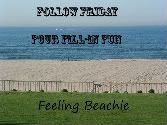 1) I always avoid texts. I even had them taken off my phone because I don't use them and don't want to pay for them.
2) I love to fall asleep when
hubby is watching his Business News ( I call it Business Snooze!)
3) My dream pet would be a rock named jewellry – I love diamonds, emeralds, rubies, amethyst, turquoise – Get the Picture!
4) I love apple pie more than chocolate. (Or ice cream!!)