It's time to hook up with Mama M. once again and play along with: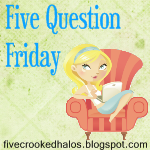 Unfortunately Mama M had some issues and was not able to host 5 Question Friday this week. I am sad since I love this feature. I even get some comments once in a while from some of you.
Please come back next week and in the mean time have a wonderful day.