Welcome to Pondering with a Purpose - brought to you by Brenda Youngerman
his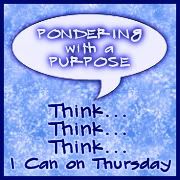 This Week's prompt: Involvement
Now this is where it is coming from. I quote, this is what I heard, "Your children are off on their own with their own lives now, you need to be less involved with them every day."
I can not go along with this statement. I am pleased to say I am involved with my children as well as my parents. Even though my oldest daughter is in another country and my parents live in another city 4 and half hours away.
I thank the internet for being around. Skype is amazing. I often speak several times a day with my oldest daughter H and her family. It is fabulous watching my grandchildren grow before my eyes. When grandson E said "Hi Grammy" and when grandson L gets on the computer to share his spelling and reading makes my heart sing. Even my granddaughter R takes a break from her studies once in a while.
My middle daughter C lives the closest. She calls every day on her way home from work. It is easy to keep up with her days this way. We also shop together every weekend.
There is also my son M and his wife M with their 2 daughters E and F. Even though they live half an hour away the girls will call us and talk about their days as well. They are a busy family and I am their back-up baby sitter. I have the privilege of being there today as a matter of fact.
I also keep in touch with my mother through the internet. I again use Skype and we talk every day. I know when she is not feeling well and when she got her new glasses. My Dad even says hi. The other day both were wearing the same type of shirts. My mother loves reading my blog as well as my daughter's and son-in-law's.
Even when D H and I travel we stay in touch with the family.
So I think I am involved with my children. I don't always give advice unless I am asked however to me just hearing from them is a blessing.