Thanks to My little life for hosting: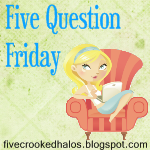 1. What is one grammar issue you cannot let go without correction?
I have forgotten most of my grammar lessons and since I started writing the blog I may be making lots of errors. If I am I am sorry.

2. What's your favourite thing about fall?
I love kicking the fallen leaves when I go for a walk. I am too old to jump in a pile of leaves however that was one of my favourite things to do as well.

3. What's your favourite dish to take to a potluck?
Everyone loves my spinach dip in a pumpernickel bread bowl.

4. When do you start Christmas (Holiday) shopping?
I don't Christmas shop anymore. Everyone gets gift certificates.

5. Did you move homes a lot growing up?
My parents moved several times when I was a baby but I lived in the same house since I was 4 years old. I then move 6 blocks away when I had my children and still live in the same house.