Just cause I love to share... here are 5 mores questions that I know you've been dying for me to answer, courtesy of: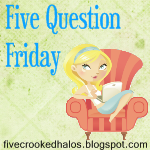 1. What's your view on men wearing sandals (yay or nay)?

My hubby wears sandals and he looks good however socks and sandals don't mix.
2. What song do you love but are embarrassed to admit?

Since I have such eclectic taste in music I don't embarrass easily/
3. What summer camp should they make for moms?

I think a camp where Moms and Dads can have time to just be children themselves. Maybe the kids could do the cooking and cleaning.
4. What is the most romantic song?

Our wedding song was "Something" by the Beatles but I also like Elvis "Can't Help Falling in Love"
5. Do you have an embarrassing pregnancy story?
No! Only that I wore maternity clothes for 3 years straight and had 3 children in 3 years.
Thanks again to Feeling Beachie for hosting this meme.... here are this week's 4 questions to fill in: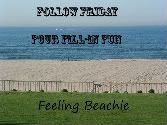 My day always starts by having orange juice and coffee and reading the paper on the internet
I prefer dancing to going to a movie on a date night.
I never thought I'd be able to travel until I retired.
I wish I could travel to Australia and New Zealand because I would love to see this fascinating part of the world.