I'm hooking up with 5 Question Friday Again!!!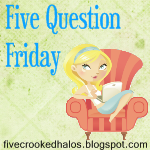 1. Is love at 1st sight possible?
Yes I believe in love at first sight although I missed it the first time around. Thank goodness for second chances and 40 years of marriage.

2. How did you choose your pet's name?
We have never had a pet. I thought 3 children were enough work.

3. What are you considering giving up (cable, home phone)?
I retired from the telephone company so I really can't give up telephone, internet and TV as I get a discount although since I retired we scaled back and got rid of the extras.

4. How much do you pay your babysitter?

I don't need a babysitter anymore however I often called upon by my grandchildren to have play time with them while their parents go on dates and I work for LOVE and KISSES.

5. How "young" is old enough to babysit?

I think I have been looking after children all of my life since I come from a large family. I was the oldest.
Welcome to the weekly Follow Friday Four Fill-in Fun Blog Hop!

This week's statements:
1. I like to wear jewellry and chose it with every outfit. I have 7 jewellry boxes.
2. I have had a lot of fun this summer with my 5 grandchildren. Sometimes they are alone with me and other times they are all together.
3. Public speaking makes me happy. I am always glad to make a speech.
4. My car always has lots of room because I chauffeur loots of people around.