Here are five more things you didn't know about me... cause it's 5 Question Friday: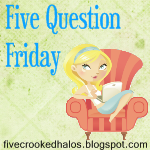 1. What is the funniest thing you saw on Facebook/twitter this week?

I do not use either
2. What is your favourite Olympic event?

For the summer it is swimming and hopefully my niece P will make it to the 2016 Olympics in swimming.
For the winter I enjoy the curling.
3. Do your kids to chores around the house? If so, what are they and how old are the children? Do they get paid for them?
When my children were young they had chores and they were paid an allowance.

4. If you get bad service/food do you complain or keep quiet?
I am a rather vocal person and I have been complaining about the coffee on board the ship. The Beverage manager doesn't drink coffee so I have become his assistant as he checks with me every day too make sure the coffee is up to my standards.

5. If you could pick ONE frivolous item for your home, what would it be? (massive room sized closet? swimming pool? greenhouse? etc...)

If my house could accommodate it I would love an ensuite however sine I consider my house a 6 room closet it would be impossible to have one.
Yep, I'm playing along again with Feeling Beachie and the gang...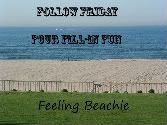 I learned how to make kids feel empowered by thinking for themselves and always asking for things because the worst answer they could get was "No"
I have always wanted to visit Australia and New Zealand and was sad when we cancelled that cruise.
My purse is an over the shoulder wallet that carries my credit cards and a little bit of money.
One day when I am more independently wealthy I am going to take that trip to Australia and New Zealand and stay for 6 months.
You know.. you should really play along... come on ... it's easy - just click on the button above!